Help us Light Up the Night at Tringali Barn and support homeless men, women, families, and youth in our community. Tringali Barn is a beautiful, wide-open venue, boasting a 7,000-square-foot event space on 54 acres. There will be indoor and outdoor activities for everyone to enjoy, including live music, great food, axe throwing, a casino, silent auction, a cigar bar, and tethered balloon rides (balloon rides are weather dependent).
We expect this event to sell out quickly so REGISTER TODAY!
Location: Tringali Barn, 7310 US-1 South, Saint Augustine, FL 32086
Date: Saturday, November 14th
Time: 6:30-10:30 p.m.
Would you like to be a sponsor? Sponsorships are available at many different levels, and a sponsorship package will be created that gives value to  your organization. For a PDF version of these opportunities CLICK HERE.
If you are ready to support St. Francis House and Port in the Storm as a sponsor, you may reserve your sponsorship level by visiting our Light Up the Night Sponsorship page.
Tickets and sponsorships remain valid in the event of a postponement.
For other general event information and group discounts for six or more tickets, call Joyce Duffy at 904-824-8987, ext. 2 or email joyce.duffy@stfrancisshelter.org.
EVENT HOST

EVENT SPONSORS


HOTEL SPONSOR
(Mention "Light Up the Night" for St. Francis House & Port in the Storm when reserving your room.)

---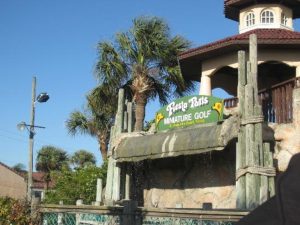 SWING INTO ACTION MINI GOLF TOURNAMENT          
The First Annual Swing Into Action Mini Golf Tournament is sponsored by Coldwell Banker Premier Properties. All proceeds from the tournament will benefit Port in the Storm Homeless Youth Center. ALL TEAM SLOTS HAVE BEEN FILLED! THANK YOU FOR YOUR SUPPORT.
Location: Fiesta Falls Miniature Golf, 818 A1A Beach Blvd, St. Augustine, FL 32080
Date: Monday, March 9th
Time: 1:00-5:00 p.m.
For questions regarding the event call Joyce Duffy at 904-824-8987, ext. 2
EVENT & TROPHY SPONSOR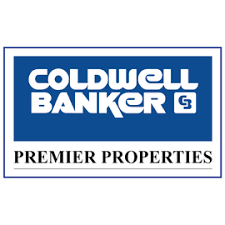 MAJOR SPONSORS
HOLE SPONSORS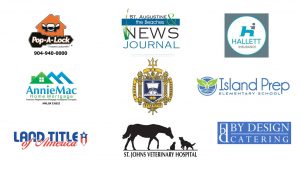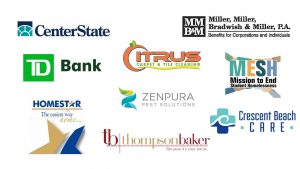 ---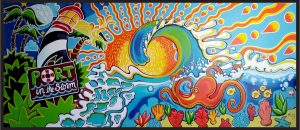 June 14, 2019 (10:00 a.m. – 1:00 p.m.)
PORT IN THE STORM HOMELESS YOUTH CENTER COMMUNITY OPEN HOUSE
The time is here! Our kids need us! Thanks to our community Port in the Storm Homeless Youth Center is ready! Join us to celebrate the generosity of our community. Come take a tour, meet the staff, and learn about the program that is helping our homeless kids in St. Augustine and St. Johns County.
Location: 1375 Arapaho Avenue, St. Augustine, FL 32084
Date: Friday, June 14th
Time: 10:00 a.m. – 1:00 p.m.
Contact Robert Harris at robert.harris@stfrancisshelter.org  or 904.824.8987, ext. 2 for more information
---
November 3rd, 2018
1st Annual Bed Race for St. Francis House & Port in the Storm
The 1st Annual St. Francis House & Port in the Storm Bed Race will take place on Saturday November 3rd, 2018 at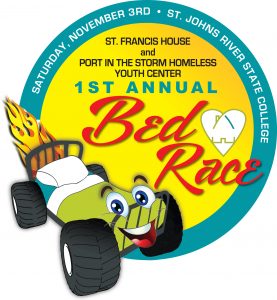 St. Johns River State College. This annual event will bring the community together to race beds and raise awareness and money for St. Johns County's only Housing Crisis Center and Homeless Youth Center!
The event will begin with a Bed Parade to show off the participants hard work and creativity and will be followed by the beginning of the Bed Races! Beds will race two at a time and compete for fastest time, prizes will also be given out for Best Decorated Bed as well as the team who raised the most money. In addition to the Bed Races, you can enjoy food from local food vendors, merch from local artisans, and live music from local musicians! There will be activities for the kiddos as well!
Teams will consist of 6 individuals, entry fee is $100 with a $500 fund raising pledge per team…..don't worry, we will help you with this piece! To register for the 2018 Bed Race, please visit www.stfrancisshelter.com/BedRace
Don't miss out on this wildly fun, family friendly event!
All proceeds will go to St. Francis Housing Crisis Center & Port in the Storm Homeless Youth Center.
Admission to attend the event is FREE!
---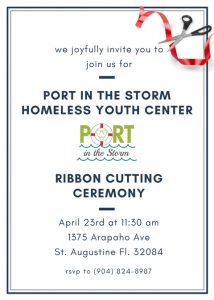 April 23rd
Port in the Storm Ribbon Cutting Ceremony
We would like to invite you to the Ribbon Cutting for our newest facility and program, Port in the Storm Homeless Youth Center on Monday, April 23, 2018 at 11:30 a.m. at 1375 Arapaho Ave. St. Augsutine, FL 32084.
Join us as well as Scott Lagassee, Jr., NASCAR Driver and St. Augsutine city offcials as we debut our new program that will change the livesof many homeless youth.
Refreshments and tours of the facility will take place after the program.
Photo and interview opportunities will also be available.
---